Demonstrating The Evolution of the Idea...and Beyond!

The Museum of Interesting Things is a traveling interactive demonstration/exhibition of antiques and inventions
inspiring innovation and creativity - learning from the past to create a better future.

A Traveling Show! We can do your next Event or Private Shows - at our location or yours!
Call or e-mail for details

Schools, hospitals, universities, galleries, parties, libraries, anywhere with a room and people, we'll bring things!
We are a traveling show -Like a circus...just no elephants
"...One of the memorable events of the school year"
Headmaster - Solomon Schechter School of Queens
"The pieces and their stories are carefully collected to make you think about how things were"
Harriet - Elmhurst Hospital
The Museum of Interesting Things inspires creativity and innovation in adults and children by providing a hands-on introduction to antique inventions that have shaped modern society.
***We travel to YOU and Demonstrate, Explain, and even
allow you to Touch Antiques so you truly
Experience History!***
The modern world is a fast-paced, technology driven society that sets its sights towards the FUTURE.

Many children have MP3 players, video game systems, and cell phones, but have no idea of the ORIGINS of what they consider ordinary, everyday devices.

Learning the HISTORY of an idea or invention from a book or a web page is only one step in exploring the past.

TMIT is a traveling, staffed museum that provides adults and children the opportunity to SEE and TOUCH real ANTIQUE items in operation.
To watch video Introduction/Story Click Here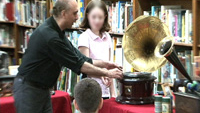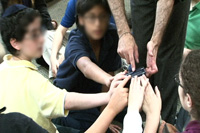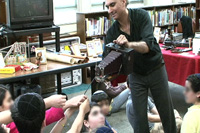 I do not get text
THERE IS NO "S" IN Denny Daniel